M. Jean. M-Live Through Me(Album Review)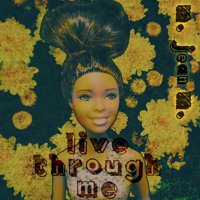 M. Jean M(Maurie) is a young MC  whose been making music on a super underground level and mainly releasing it through through sound cloud. Live Through Me is her debut album and overall it leaves mixed results.
      MJM for the most part creates alternative rap music. A lot of the beats she rhymes over are dark and atmospheric. Just a lot of horror core esq production. Some tracks are more skeletal and others are pure acapella  For the most part it's well done.Her rapping is a tad off kilter, sometimes she rhymes a little slower, almost spoken word even other times she's more hyped. "Fucked Up Minds ft Kyle Ritch" is a perfect example, Maurie just sounds great on that beat her flow fits nicely and chorus is just right. Animal Crackers is another good track which makes great use of a Sherly Temple sample to sort of eerie effect. Lyrically she raps about people being manipulated by trends and brands.
       MJM has characteristics of a potentially good rapper. She has a lot of personality and decent content,  you have tracks with a socially aware message some tracks that have what seem to be love songs and some boastful tracks. Not to mention an ear for interesting instrumentals but her skills on the mic are still pretty sketchy. Sometimes she's a little too flat, or a  tad too off beat or just a little sloppy when it comes to her bars and word annunciation(nothing that couldn't be improved upon with tons of practice). So even though there were bright spots and the execution isn't always there.If you're into hip-hop though I'd give her tracks a listen!
https://soundcloud.com/mopojean
Rating:6.0/10
By: Patrick Griffin II